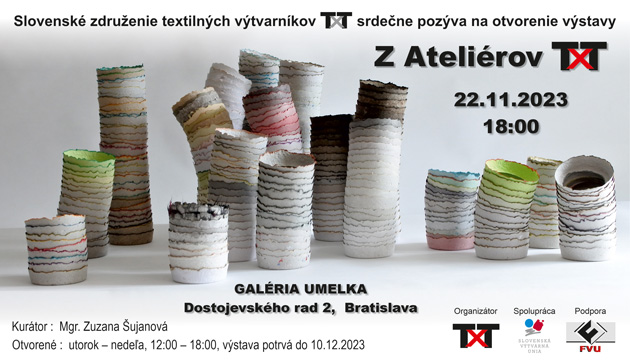 22nd International Mini Textile Exhibition
BUBLINA - BUBBLE
Press release




More informations...

Exhibition catalogue




More informations...

02/12/2022

Dear artists,
we cordially invite you to the openng of the 22nd International Mini Textile Exhibition BUBBLE...



More informations...


History of TxT

The Slovak Textile Artists Association TxT is well known among those interested in culture. During its 15 years of existence, the Association has carried out a number of interesting projects in the sphere of visual arts.

During 1990 – 1993, international textile symposia in the town Ružomberok were held, which were replaced in 1995 by surprisingly inventive international paper symposia taking place at the Museum of the Liptov Region. During last years, the public is attracted mainly by regular exhibitions of miniature textile that have been held at the gallery Galéria X in Bratislava since 2001.


After member's exhibitions in 1995 and 1998 (UBS, Bratislava) and numerous activities at home as well as abroad (Barcelona, Prague, Łódź, Graz) we again organise a member's exhibition at the known exhibition hall.


The authors of the project, Mrs. Erika Gregušová and Mrs. Silvia Fedorová, have given the exhibition the name Object-Surface-Structure.